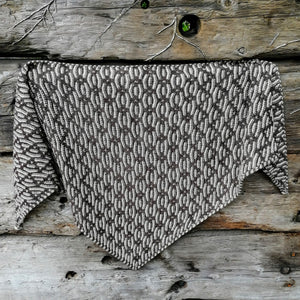 In collaboration with Arella Seaton (@arellaseatondesign on instagram) I would like to introduce her beautiful design of the Kevad Shawl which she knitted in Black Elephant colourways 'Pecan Pie' and 'Silence'.

You can find this pattern (and purchase it) on her Ravelry page
It's a perfect little project to start creating those Christmas presents.
If you would like to knit it in the same colour combination, you can pre-order your kits here.
Set will not contain pattern. You have to purchase this separately from Arella

(@arellaseatondesign)
Kits will be sent the same way as our 'dyed to order' section.
If you order between 1st - 15th of the month, it will be shipped at the end of the same month. If you order between 16th-31st of month, it will be shipped on 15th of the following month.
Kevad Shawl Set will contain:
2 skeins of Black Elephant Singles

1 skein of Pecan Pie

1 skein of Silence

Singles specs:
100% Superwash Merino
100g/366 metres